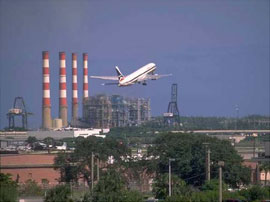 The Supply Chain Game
The Supply Chain Game is an online supply network simulator. In a typical setting students are divided into teams and compete against each other in one or two assignments lasting a week each. To meet different demand patterns in five regions, student teams set production and inventory control parameters, transportation choices, and add new factories and warehouses. The objective of the game is to maximize cash position at the end of the game. The game is designed for use in supply chain electives or core courses that emphasize supply chain management. Learning objectives include:
forecasting
inventory and production control
supply network design
logistics
The Supply Chain Game was developed with Professors Sunil Chopra and Philipp Afeche at the Kellogg School of Management at Northwestern University.
Click on the links below for more information:
How to order trial accounts, instructor packets, and course accounts
"...a big success.
The feedback from students was excellent."
– MIT Professor teaching a PhD course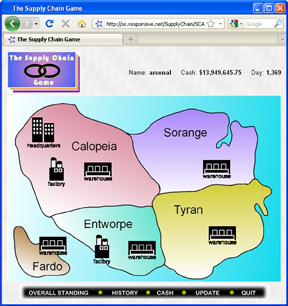 Students monitor their supply network using an intuitive interface accessible through their web browser.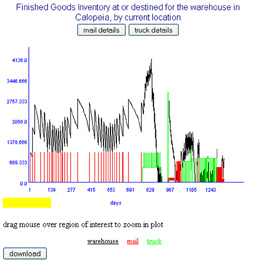 Students view and download historical data to understand the effects of past decisions and to guide future decisions.
"Overall, the students found the game to be an excellent tool for applying some of the principles we discussed in class."

– North Carolina State professor teaching an MBA course

"There was lots of interest and student involvement, and my students had fun with it at the same time. Perhaps most important, I was able to accomplish some very important learning objectives in my Supply Chain Management class."

– University of North Texas Professor teaching an MBA course