"Fascinating -- and rather addictive, too!"
– Johns Hopkins University Professor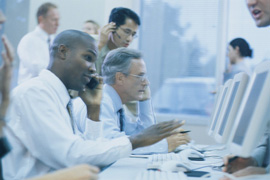 The Sourcing Game
The Sourcing Game is an online competitive simulation where student teams produce and sell products. In a typical introductory assignment, students produce inventory by setting reorder points and sell inventory by setting retail prices. More advanced assignments can include: negotiating complex purchasing agreements between teams to acquire inventory; selecting suppliers to balance responsiveness, reliability, and price; and analyzing large data sets to determine pricing and inventory policies in the presence of complex demand patterns.
Assignments can be used to teach a variety of topics including:
Pricing in a monopoly setting
Inventory management
Risk sharing and incentive alignment
Choosing suppliers and distributors
Supply chain analytics
Assignment durations vary from an hour in the classroom to a week outside the classroom. A course would typically use one or two assignments.
Click on the links below for more information:
How to order trial accounts, instructor packets, and course accounts